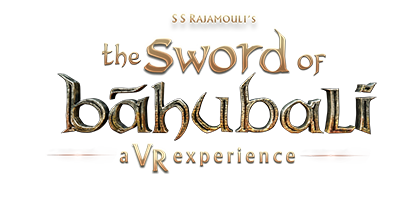 A Path Breaking Cinematic VR Experience!
Concept
"The Sword Of Baahubali" is the first of it's kind cinematic VR experience. The 8 to 10 minute feature is set against the backdrop of the climax of "Baahubali 2 - The Conclusion". It is near photo realistic, 3D, and fully immersive, designed to take the viewer into The World of Baahubali. Directed by SS Rajamouli and produced by Arka Mediaworks in partnership with Radeon Technologies Group, it is a path breaking experience in Virtual Reality.
Story
Two friends, Sadhu and Samaya find themselves on a battle field, across them, the armies of Bhalladeva (Rana) and Shivudu (Prabhas) are set to charge into battle. As they watch the action unfold, Kattappa comes up to them unexpectedly, and asks them to help find Shivudu's sword, without which he cannot win the battle. Their mission – to find Shivudu's sword and deliver it to him, before he reaches the elephant gates.
Based on the decisions they make, the path leads them to the palace courtyard, a secret chamber, an elephant battle, Bhalladeva's chariot, and finally to Shivudu, to deliver the sword!
Credits
Based on Characters Developed by Vijayendra Prasad
Director - SS Rajamouli
Concept - SS Rajamouli and Raja Koduri
Producers - Shobu Yarlagadda and Prasad Devineni under the Arka Mediaworks banner
Created by - CNCPT - John Griffith, Chris Wolak, Sam Mowels
Line Producer - Devika Bahudhanam
Music - MM Keeravaani
Sound Design - PM Satheesh, Firefly Post Sound
VFX Producer - Srinivas Mohan
AMD Team - Raja Koduri, Mikeal Bourges-Sevenier, Chirs Hook, Roy Taylor, James Knight
Created on Radeon Pro
Rendered on Amazon Lumberyard